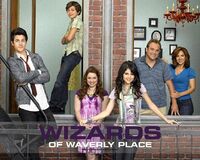 Wizards of Waverly Place is a Disney Channel Original television series that premiered on October 12, 2007. It won "Outstanding Children's Program" at the 61st Primetime Emmy Awards in 2009.
A film adaptation of the series, Wizards of Waverly Place: The Movie, premiered as a Disney Channel Original Movie on August 28, 2009; In 2010, the film adaptation won "Outstanding Children's Program" at the 62nd Primetime Emmy Awards.
Set on Waverly Place in Manhattan, New York's Greenwich Village neighborhood, Wizards of Waverly Place centers on the Italian-Mexican Russo family, which includes Alex (Selena Gomez), her older brother Justin (David Henrie), and their younger brother Max (Jake T. Austin). The three Russo siblings are wizards in training and live with their Italian-American father Jerry (David DeLuise), a former wizard, and their Mexican-American mother, Theresa (María Canals Barrera) who is a mortal. Alex's best friend Harper (Jennifer Stone) also found out about the Russos' wizard powers in the Season 2 episode "Harper Knows".
The siblings have to keep their secret safe while living in the mortal world. When they all complete their wizard training, the three siblings will have a wizard competition to decide who will become the family wizard of their generation and keep their powers forever while the others will lose their powers for good and become mortal. Because of this, Jerry is always trying to get the kids not to rely on magic, because they might not have it someday.