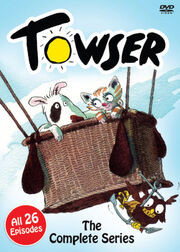 Towser is an animated children's television series based on the books by Tony Ross and narrated by Roy Kinnear. The show was created in 1982 by King Rollo Films and aired weekdays on Children's ITV from 11 September 1984 to 16 October 1984.
The main characters of the show were Towser the dog, Sadie the cat, Dr. Smelly, the King and the Wizard.
Although Towser and the Conjuror was the first episode broadcast, it was in fact the last one produced. The DVD has it listed correctly as the twenty-sixth and final episode featured.