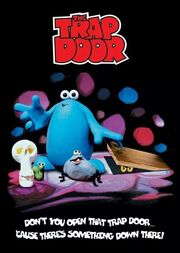 The Trap Door is a British animated television series that ran weekdays on Children's ITV from 6 October 1986 to 7 November 1986. The plot revolves around the daily lives and the misadventures of a group of monsters living in a castle. Although the emphasis was on humour and the show was marketed as a children's programme, it drew much from horror and dark fantasy. The show has since become a cult favourite and remains one of the most widely recognised family entertainment shows of the 1980s.
The world of The Trap Door is solely inhabited by monsters, and almost all action takes place in the monsters' castle, and especially the pantry or cellar where lives Berk, the central character. Beneath the castle are a series of dark and mysterious caverns inhabited by all manner of "horrible things", accessible by the eponymous trap door.
The master of the castle, "The Thing Upstairs", resides in the attic of the castle and remains an unseen character throughout the entire show, shouting orders to Berk when hungry or annoyed. Berk has two companions, Boni and Drutt. In most episodes, Berk accidentally leaves the trap door open, admitting a more troublesome monster than himself; but some monsters open it from below. Though mostly hostile or mischievous, the monsters emergent from the trap door include the amiable and periodic Rogg, and occasionally others as harmless as he.