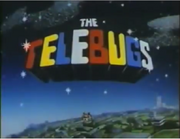 The Telebugs is a cartoon from the 1980s about the adventures of three robots with televisions for heads. It was produced by Telemagination Ltd for Television South and aired weekdays on Children's ITV for 3 seasons from 6 January 1986 to 18 December 1987.
The robots' names are C.H.I.P. (Coordinated Hexadecimal Information Processor), S.A.M.A.N.T.H.A. (Solar Activated Micro Automated Non-inTerference Hearing Apparatus) and B.U.G. (Binary Unmanned Gamma camera) - who were accompanied by a flying video pack called M.I.C. (Mobile Independent Camera). They were invented by Professor Reginald Brainstrain to stop enemies such as Baron Bullibyte, Sister Magna, Angel Brain and Arcadia whilst working as reporters for a TV executive named Angus McStarch.
The professor also created a fourth telebug, Z.U.D.O. (Zero-failure Universal Data Optimizer), but he was misprogrammed and turned evil when the professor's cat Grumble rushed the assembly because he was waiting to be fed his pickled herrings.
VHS Releases
Video Gems released 3 VHS tapes of the first season in 1986:
R1033 – Angel Brain & Zudo Bug
R1075 – The Telebugs Strike Back
R1083 – The Telebugs in Action