The topic of this page has a wikia of it's own: Recess Wikia.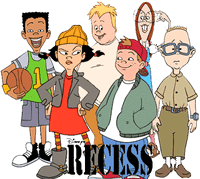 Recess is an American animated television series that was created by Paul Germain and Joe Ansolabehere, and produced by Walt Disney Television Animation. The series focused on six elementary school students and their interaction with other classmates and teachers. Recess aired on Saturday morning on CITV's digit.
Recess portrays the lives of six fourth graders as they go about their daily lives in a highly clichéd school environment. The students of Third Street School have set up a microcosm of traditional human society complete with its own government, class system, and set of unwritten laws. They are ruled by a monarch, King Bob, who has various enforcers to make sure his decrees are carried out. The little society has a long list of rigid values and social norms that imposes a high expectation of conformity upon all the students.
Community content is available under
CC-BY-SA
unless otherwise noted.