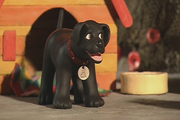 Merlin The Magical Puppy is a claymation animated series by The Little Entertainment Company and Entertainment Rights. It aired on CITV from 2001-2003.
Merlin the little black Labrador puppy lives with Ernie the Harbor Master in Sandy Bay Harbour. Merlin is a mischievous doggy, always on the hunt for sausages and prone to digging up gardens, so Ernie decides to get him a collar. But he doesn't get him a regular, everyday collar, oh no. Merlin's red collar is accrued from an antique shop, and purports to have been the selfsame collar procured by Merlin the Magician, for his own little dog who kept wondering off. Which means it's a magical collar, and the dog that wears it and utters the magic word can be instantly transported away - anywhere you please. And that means, rather than reining his the puppy in, Ernie's given the chap freedom to roam!
Community content is available under
CC-BY-SA
unless otherwise noted.