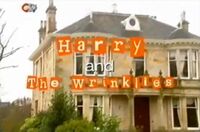 Harry and the Wrinklies was a children's television series which produced three series between 1999 and 2002. The show was produced by Scottish TV and SMG TV Productions that aired on CITV. It was based on a novel of the same name by Alan Temperley.
When Harry's parents die on holiday is adopted by his aunts. These aunts run an old folks' home where every inhabitant is a retired criminal or scam artist, and these "Wrinklies," in a new twist on the Robin Hood tale, routinely commit various crimes in order to donate large sums of money to charity.
The Wrinklie's archenemies were a corrupt judge and his evil girlfriend, Percy 'Beastly' Priestly and Gestapo Lil. Harry has a dog called Tangle.