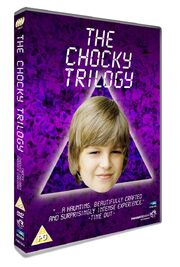 Chocky is a 1984 children's television drama based on the 1968 novel by John Wyndham and was broadcast on Children's ITV in the United Kingdom. Two sequels were produced in 1985 and 1986 respectively. All were written by Anthony Read and produced by Thames Television.
While the 1968 novel was set in an unspecified 'near future', the TV adaptation was set contemporaneously in the mid-1980s in Surrey. The Gore family acquire a second generation Citroen CX car which was marketed as being technologically advanced at the time.
Series synopsis
Edit
Matthew Gore is an intelligent boy chosen by a mysterious extraterrestrial visitor to be a source of information about life on Earth. As his schoolwork and artistic talent improve dramatically he arouses the suspicion of powerful groups who wish to tap into the amazing fund of knowledge to which he is now part of.
This original series aired on Mondays from 9 January to 13 February 1984, and was shown again as a re-edited feature film on New Year's Eve 1984.
Chocky's Children
Edit
A year has passed since Matthew said goodbye to his alien friend, and in the summer holidays he meets Albertine, a mathematical prodigy, with whom he discovers he can communicate telepathically. One day Chocky returns to warn Matthew that they are both in danger. When he returns to tell Albertine, he finds she has disappeared.
This sequel aired on Mondays from 7 January to 11 February 1985, and was shown again as a re-edited feature film on 27 December 1985.
Chocky's Challenge
Edit
Chocky hopes, with Matthew and Albertine's help, to help the human race discover cosmic power, which unlike Earth's finite natural resources, will sustain them for as long as the universe itself exists. But their knowledge has aroused a great deal of interest from the military, and they are willing to take drastic action if they don't get what they want.
This final chapter aired on Mondays and Thursdays from 29 September to 16 October 1986.