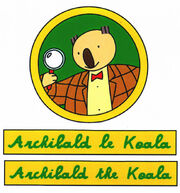 Archibald the Koala is a French/English TV show that aired on CITV from 1998-2000. It was set on the island of Rastapappe, an island inhabited by koalas and badgers, who seem to get on really well.
The capital city of the island, Koalaville, is filled with koalas, including Archduke, the mayor who gets migraines, or "mee-granes" as he pronounces them, Edison, the dastardly inventor who always plots schemes to stop Archibald, and whose catchphrase is "CURSE YOU, ARCHIBALD!", and Marie the painter, who is always bossy to her co-workers.
Edison never seems to stop plotting schemes, so Archibald is put on the job to investigate, and he seems to do a pretty good job of it as well!